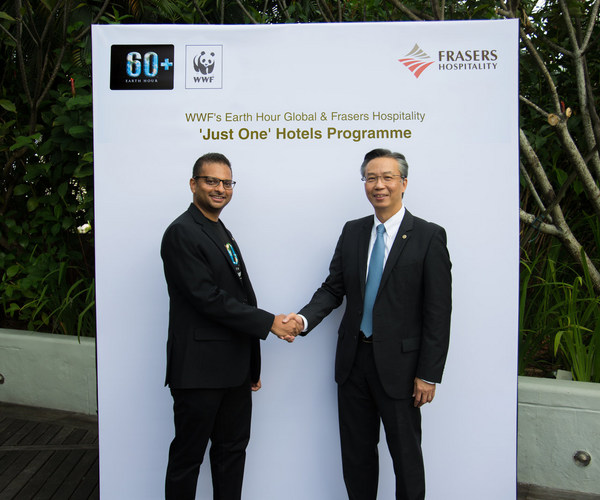 SINGAPORE, 31 March 2016 – Frasers Hospitality, a global leader in serviced, hotel residences and boutique lifestyle hotels, is pleased to pledge its support to an innovative partnership with WWF's Earth Hour, the world's largest grassroots movement for the environment to encourage its properties, staff and guests to join the efforts to change climate change.
As part of its 'Fraser Earth' initiative towards protecting the environment and ongoing commitment to sustainability, Frasers Hospitality is expected to become the pioneer member of WWF Earth Hour's 'Just One' hotels programme, where guests have the option to contribute toward the environment through Earth Hour and WWF by adding up to USD 1 to their bill for every night spent at Frasers Hospitality's participating properties.
"Our commitment to reducing environmental impact extends beyond that of ensuring our properties and practices are environmentally friendly. We believe driving greater awareness on the issue, particularly through the education of the younger generation, will have the longest and largest impact on environmental sustainability, and will continue to support these initiatives on a local and global basis," said Mr Choe Peng Sum, Chief Executive Officer, Frasers Hospitality Pte Ltd.
Frasers Hospitality will roll out the 'Just One' hotels programme progressively in 2016, with properties in Singapore coming on board in the first phase, before implementing across various properties in Europe, Middle East, Asia and Australia. The funds raised will contribute toward WWF climate projects in each participating country.
In Singapore, the partnership will support WWF-Singapore's Education programme which runs initiatives such as 'Conservation on the Move' and the 'Eco-Schools Programme' to educate the environmental leaders of tomorrow. Working with teachers and students in 30 schools across the country, the programme aims to make sustainability a part of school life, providing a framework for building environmental education into the curriculum and organizing environmental activities within the school and community.
"At WWF and Earth Hour, we believe climate action can start anywhere, even when you are miles away from home. The 'Just One' hotels programme is a step in that direction," said Siddarth Das, Executive Director, Earth Hour Global. "We are grateful to Frasers Hospitality for their support and commitment towards our vision of collectively creating a better future for our shared home -- planet Earth -- for ourselves and generations to come."
Since 2007, Earth Hour has mobilized businesses, organizations, governments and hundreds of millions of individuals in over 7,000 cities and more than 170 countries and territories to act for a sustainable future.
************************
For media inquires or requests for press interviews, please contact:
Jastina Balen, Frasers Hospitality Pte Ltd: jastina.balen@frasershospitality.com; +65 6415 0323
Rucha Naware, Communications Manager - Earth Hour Global: rucha@earthhour.org; +65 8148 2477
********************************************
About Earth Hour: Earth Hour is WWF's global environmental movement. Born in Sydney in 2007, Earth Hour has grown to become the world's largest grassroots movement for the environment, inspiring individuals, communities, businesses and organizations in over 170 countries and territories to take tangible climate action. Celebrating the tenth edition of its signature lights out event in March 2016, the Earth Hour movement continues to harness the power of its millions of supporters to shine a light on climate action and the power of the individual to change climate change.
About WWF: WWF is one of the world's largest and most respected independent conservation organizations, with over five million supporters and a global network active in more than 100 countries. WWF's mission is to stop the degradation of the earth's natural environment and to build a future in which humans live in harmony with nature, by conserving the world's biological diversity, ensuring that the use of renewable natural resources is sustainable, and promoting the reduction of pollution and wasteful consumption.
About Frasers Hospitality: Frasers Hospitality, the hospitality arm of Frasers Centrepoint Limited, is a global hospitality operator with Gold-Standard serviced, hotel residences and boutique lifestyle hotels across North Asia, Southeast Asia, Australia, Europe, and the Middle-East. Frasers Hospitality commits to "anticipate and exceed the evolving needs of executive travellers through continuous innovation", and providing its customers with the space, family and community away from home. Conceived with the lifestyle preferences of today's discerning business and leisure travellers in mind, Frasers Hospitality has three Gold-Standard serviced residences offerings – Fraser Suites, Fraser Place and Fraser Residence, a modern and eco-lifestyle brand, Modena by Fraser, and a design-led hotel residence brand, Capri by Fraser. In addition, the group operates two brands of upscale boutique lifestyle hotels in the key cities of UK, Malmaison and Hotel du Vin.
For more information on Frasers Hospitality, please visit www.frasershospitality.com.