Sudhanshu Sarronwala, Executive Director, Communications & Marketing at WWF International, reflects on eleven years of Earth Hour and the significance of Earth Hour 2020.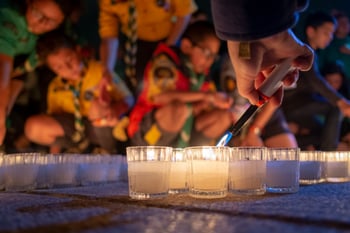 Eleven years ago, I was airborne somewhere over Europe at the end of March when, at 8.30pm, I reached up and switched off my reading light.
It was Earth Hour.
I had been introduced to it by my wife a year earlier in Singapore who had come across this 'movement' on the internet - we had hastily organized our first Earth Hour gathering with our neighbours — a small drop in the vast ocean of humanity that had done the same. Little did I know then that this was to become a huge part of my life. (Photo above: © Gerardo Magallón)
For the next ten years it was deeply humbling and exhilarating to be a part of and to witness the staggering adoption of Earth Hour by people across the world for environmental issues important to us all.
Today, as I sit at home in a locked-down, COVID-19 hit Switzerland along with the rest of the continent and indeed, much of the world, I look back and reflect on the significance of the hour for us all.
Earth Hour is about people. It's about people coming together to signal their solidarity for a cause. To signal that we're in this together. Whether it be for addressing climate change, reversing biodiversity loss or tackling, with the rest of the world, the onset of a pandemic we could not imagine.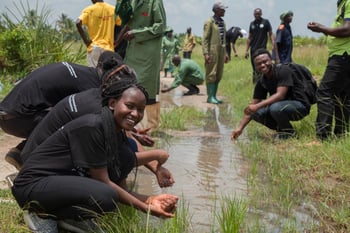 One Earth Hour story that struck deep for me was in the aftermath of the Fukushima tsunami — just a few weeks after the evacuation in the area, word reached us that as some affected people grappled with their dramatically impacted lives in a temporary shelter, they lit a candle on Earth Hour to mark their solidarity with the situation and all the affected people. To this day, that thought moves me.
This Earth Hour, while we all tackle the pandemic together and lead a period bereft of many of the things we love, we also ask you to recognize the role that nature plays in our lives — and what we stand to lose if we are unable to reverse its decline. (Photo above: © Gaudensia Kalabamu / WWF-Tanzania)
For Earth Hour 2020, I raise the question as to what nature loss really means for you and your everyday life. For me, it's personal. I grew up in the tea estates of Assam in North-East India. Surrounded by extensive forests teeming with wildlife and our fair share of big cats occasionally strolling across our living areas and the tea estates, it was a part of my life.
Some people may think of nature and my experience with it as distant, infinite and 'out there'. And they are not alone; millions of people who live in cities associate nature only with parks, gardens and wildlife sanctuaries and are unaware of how nature impacts and underpins their daily lives.
In reality, the air we breathe, the water we drink and the food we eat all ultimately rely on nature.
Nature is a business machine — the services provided by nature are estimated to be worth US$125 trillion a year — double the world's GDP. Nature also provides us with an immediate, cost-effective, scalable and durable solution to climate change.
The World Economic Forum's 2020 Global Risks Report ranks biodiversity loss and ecosystem collapse as one of the top risks humanity will face in the next ten years.
It's of little surprise given the way human activity has altered landscapes and ecosystems beyond recognition — polluting waterways, filling the oceans with plastic waste and destroying biodiversity on an unprecedented scale.
This Earth Hour, therefore, I hope people everywhere join us to raise their voice to stop the destruction of nature on which our health, happiness and economic prosperity depend. This is the year when an agreement on a new global framework for nature and biodiversity, further action on climate change, a treaty for the oceans and a renewed commitment to the environment under the UN's sustainable development goals are expected to be negotiated and decided.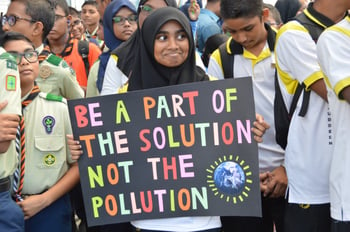 This year will set the agenda for the next decade and for our future — and that of our loved ones.
History has shown us the superpower of collective action — from the Climate March to Fridays for the Future to Earth Hour and many more such movements — we have seen the world sit up and pay attention when grassroot movements have demanded urgent action. And even as I write this now, we are witnessing a different kind of collective action and responsibility as we each do our part to help stop the spread of the pandemic.
We are in this together. Hence, for this change to become a reality, we need your voice and action. This Earth Hour, 28th March at 8:30pm, turn off the lights and pledge your support at earthhour.org/voice — use your voice for the planet. We will take your voice to the global forums and show decision-makers that you care, that you demand action. (Photo above: © Ahmed Nasheed / Earth Hour — Maldives)
Today, as we all work together to stay apart for the virus, we ask you to come together digitally for the hour and for our collective future.
— — —
(2) In 2019, the report by scientists at IPBES, an Intergovernmental Platform of experts assessing biodiversity threats, showed that one million plants and animal species are currently threatened with extinction and (on average) more than 25 percent of documented species are under threat